Tag Archives:
Better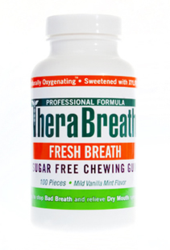 (PRWEB) September 12, 2012
TheraBreath Oral Hygiene Products announces the launch of two great new oral health products that are perfect for Back-to-School fresh breath. Designed for kids and teachers who are heading back to school after summer vacation or anyone needing a powerful, daily breath freshener, these oral hygiene products provide the convenience of single-use packages in containers small enough to fit into a child's lunch bag and book bag or a teacher's purse and briefcase.
To help maintain fresh breath all day, TheraBreath's Oral Rinse Single Use package provides 14 individual pouches (.25 ounces each) containing Dr. Katz's special oral hygiene rinse that dispenses the power of OXYD-8, an oxygenating solution capable of immediately eliminating bad breath. These single pouches fit easily into the smallest purse or bag and offer the ability to freshen breath, enhance oral health and rid the mouth of bitter or sour tastes anytime, anywhere. Because Dr. Katz has already pre-measured the recommended amount of rinse, users simply need to open one of the convenient pouches and gargle for about one minute to freshen breath.
TheraBreath has also released a 100-piece bottle of their popular chewing?that is over eight packs of traditionally packaged TheraBreath chewing gum all in one receptacle. By keeping a bottle of TheraBreath gum pieces in the car, at work and at home, consumers will always be able to hydrate a dry mouth, stimulate saliva flow and freshen breath by chewing one or two, sugar-free, vanilla-mint flavored pieces of TheraBreath chewing gum. To buy the TheraBreath